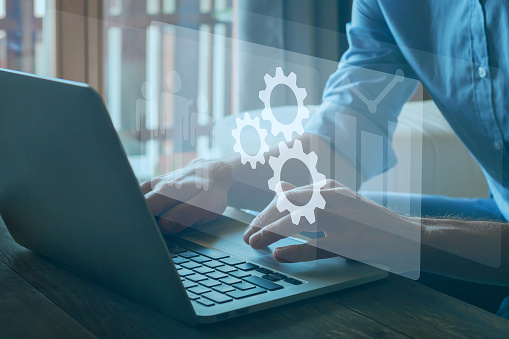 08 May

SAP S/4HANA PROGRESSION

Just as we enter this year most of us are highly dependent on doing operations and transactions online. For those of you who are just getting started or running a small-medium type of venture, have you ever realized how these 'giants' in the industry operate a series of tasks and departments and monitor them?

It can be manageable if you're looking after ten or fewer people within your team and their assigned tasks. Every business's goal is to grow. Now, what happens if the stakes started going up and demands went uphill? We must remain our composure in managing these despite a gradual or drastic transition.

Let me introduce you to these tools: SAP ECC & SAP HANA. We'll deep dive into the general details on how these can back us up and how the said progression happens on the backend.

Understanding Differences and Advantages

SAP (Systems Applications and Products) ERP Central Component – also known as SAP ECC is a tool used for business' digital management. It allows a centralized system when it comes to a streamlined process on medium to large-scale operations. It allows a smooth cycle across departments with real-time intervention. Meanwhile, SAP HANA will be your in-memory database – it's your storage readily available for use. It also caters to time-invasive or time-sensitive tasks within your corporation. 

Our goal is to understand better the direct relationship between these two platforms and how will be the transition from SAP ECC to the newer SAP HANA. It will help us create an integrated kind of backend device that you can use to run your business with ease.

It will start with your planning stage. SAP ECC comes into place to aid how you determine what your processes will be. It also helps with identifying how you can align a single function with multiple designations. For example, how you blend a single person's tasks within the team. In general, this reveals how you'll be able to put them together to harmoniously work when it comes to those roles assigned to each of them.

To cite some common examples are the following: Transactions, Reporting, Accounting/Inventory, Recruiting, Management, and Communication. How your Transactions can be converted to Reporting and eventually reach your Inventory. It's the purpose of your SAP ECC to streamline every task that you have in your business. It stimulates a shift from your process 1 to process 2 (and the rest of your processes) that will breed your desired scheme.

We need to have a safe and accessible to play with those cards we've dealt. It's where you'll picture SAP HANA to take over. With these, you'll gain your insights, transactional & analytical data, probabilities and potential, risks, and your numbers in general. Imagine how you can unleash your operations strength. You can use it to analyze and anticipate your numbers fluently.

The positive effect of this movement is that you work on this in real-time because of its accessibility. Not to mention, it also promotes vital key points: Administration, Management, and Data Security.

While business and software experts can effortlessly speak this kind of language, it's helpful to share a quick analogy of how these two works together. For those who may be seeing these terminologies for the first time, this pitch feeds our curiosity.

Try to visualize your SAP ECC as the President (Commander in Chief). It's where your chain of actions will come. It also works both ways from top to bottom and vice versa. The head to the bottom route is for your commands and directives. On the other hand, bottom to top serves as your requests and approvals.

Now, for these functions to come together and smoothly carry out their deliverables, they must have a secure place to achieve and fulfill these things. SAP HANA will be your White House (Office of the President). It's a type of setting that allows you to do the desired activities efficiently and with precision.

You may envision something to this effect how SAP ECC is directly proportional with SAP HANA. The catch is that you'll have this as software that you manage right at the tip of your fingertips.

4 MAJOR REQUIREMENTS OF THE TRANSITION TO SAP S/4HANA:
Seek a S/4HANA Migration Assessment. What's the end goal you want to achieve for the business? Discuss trends and propositions for multiple industries and lines of business who got SAP HANA to compare your own business needs. 
Distinguish Peril.  Identify technical and business risks involved and what needs should be tested
Get a fix on the risks. SAP experts will help you strategize to address these risks. 
Acquire Continuous Testing Platform. This will help businesses get the most out of S/4HANA.
Seek an S/4HANA Migration Assessment
This requirement will let you see the future! It will tell you what impact S/4HANA will have on your business' goal on perspective such as, development, testing, integration, security and training. Getting an S/4HANA Migration Assessment will help you allocate time, resources and costs.
Distinguish Peril
They say "what you don't know, won't hurt you." That should never be applied to the business world. After you get your assessment, you will now know the risks you might have when migrating to S/4HANA. To properly distinguish these risks, you need to know:
WHAT to test
WHY it needs testing
WHERE there are gaps in your test
WHO are the best business users to test those gaps
These questions need in depth answers without these understanding your testing could be insufficient and ineffective.
Get a fix on the risks.
Identifying the technical and business risks in transition to S/4HANA will open the door for test automation. S/4HANA includes many interface changes that require script maintenance. To create an adaptable, strong test automation approach, consider switching to a model-based test automation (MBTA) approach. When your applications change (e.g., a field is added or removed), you just update the model and the change is automatically propagated to all impacted tests. No further manual intervention is required!
Acquire Continuous Testing Platform.
Transitioning to S/4HANA will obligate your organization to adopt a continuous testing platform to get the transformational benefits promised by S/4HANA. Continuous testing will:
Revamp testing to reduce risks and delays in S/4HANA
Speed up the quality process
Ensure the smooth performance of data
Greenfield, brownfield or both?
Now that you know these major requirements, you need to choose which implementation plan you'll be using.
New Implementation (greenfield)
This proposal is for customers who are looking to use S/4HANA for redesigning your methods back to standard functionality. Start with a fresh implementation of SAP S/4HANA and migrate data from your legacy ERP deployments.
System Conversion (brownfield)
The fastest way of transitioning from SAP ECC to SAP S/4HANA. This preserves your existing configuration, customisations, and historical data. This approach allows a rapid technical conversion, adding innovations gradually for users.
Selective Data Migration.
This is the combination of both implementation plans. It supports big bang approaches, as well as rollouts, and can be also used to modernize landscape and architecture (e.g. ERP consolidations or move to cloud applications).
If you're thrilled to explore how these two can positively impact your growing business, reaching out to experts is highly recommended!